Posté par ribambelles le 23 mars 2010
 Voici un petit documentaire sur le cymbalum, suivi de quelques vidéos. Here is a small documentary on the cymbalum, followed by some videos.

Le cymbalum est un instrument à cordes frappées à l'aide de mailloches, faisant partie de la famille des cithares sur table. On l'appelle aussi le piano tsigane. The cymbalum is a string instrument, being part of the family of cithares on table. It's  also called the Tzigane piano.

Le Cimbalom hongrois The hungurian Cimbalom
Il s'est répandu très rapidement depuis le XVè siècle sous l'influence tsigane. It spread very fast since XVè century under the gypsy influence.

Un cimbalom de concert, large et lourd, comparable au piano, a été fabriqué par Jozsef Schunda dans les années 1870. Il possède 123 cordes. A concert cimbalom, broad and heavy, similar to the piano, was fabricated by Jozsef Schunda in 1870s. It has 123 strings.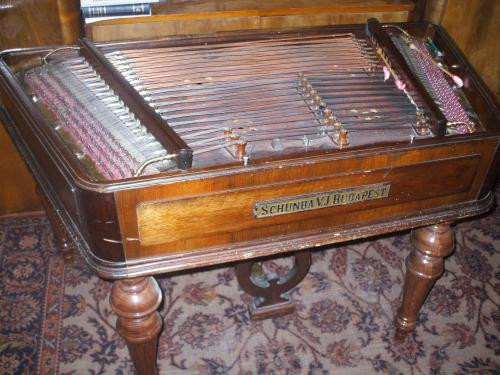 Les compositeurs hongrois comme Frank Liszt, Bela Bartok et Zoltan Kadaly ont écrit des pièces pour cimbalom. The Hungarian compositors as Frank Liszt, Bela Bartok and Zoltan Kadaly wrote pieces for cimbalom.
Le Czimbalum tchéco-slovaque The Czechoslovakian Czimbalum
Il est très répandu notamment en Moldavie. Il est très similaire au cimbalom hongrois. It is notably very spread in Moldovia. It is very similar to the Hungarian cimbalom.

Le Tambal roumano-moldave The roumanian-moldavian Tambal
Il en existe 2 sortes: There are 2 kinds:
Le Tambalulmic ou petit Tambal se joue debout et en marchant. Il a 51 cordes. The Tambalulmic or small Tambal is to be played standind up and walking.
Le Tambalul mare ou grand Tambal ou Tambal de concert a 96 cordes. The Tambalul mare or big Tambal or concert Tambal has 96 strings.
 Le Tsymbaly biélorusse The Bielorus Tsymbaly
Il a ceci de particulier qu'on en joue soit en frappant, soit en pinçant les cordes, soit en retournant les marteaux. Il est utilisé à la fois en musique classique, jazz, contemporaine ou traditionnelle. It has a distinctive feature: you can play  by knocking or pinching the strings or by  turning hammers round. It's used at the same time in jazz, classical, contemporary or traditional music.
Le Tsymbaly ukrainien The ukrainian Tsymbaly
Il existe un modèle portable ainsi qu'une version locale (à deux pédales et plus petite) du grand cimbalom hongrois de Jozsef Schunda. There is a portable model as well as a local version (with 2 pedals and smaller) of the Jozsef Schunda's big hungurian cimbalom.
Tsymbaly ukrainien portable
Le Cymbaly polonais The polish Cymbaly
Dans le sud du pays, des musiciens juifs en jouent accompagnés de violon et contre-basse, pour des danses traditionnelles. In the south of the country, jewish musicians  play it accompanied with  violin and  bass, for traditional dances.
Voici maintenant une vidéo du groupe Urz Karpatz qui est est composé de 8 musiciens : percussions, cithare, guitare, accordéons, violon alto et à pavillon, contrebasse, cymballums, saxophone, clarinette, et flûte, réunis autour de leur fondateur, Dimitri, un musicien passionné de chants tsiganes et ancien dresseur d'ours.
 Now here is a video by a group of eight musicians Urz Karpatz : percussion, cithara, accordion, viola and viola with bell, bass, cymbalum, saxophone, clarinet, flute together with their founder, Dimitri, a musician who has a passion for  gypsyish songs and a former bear trainer.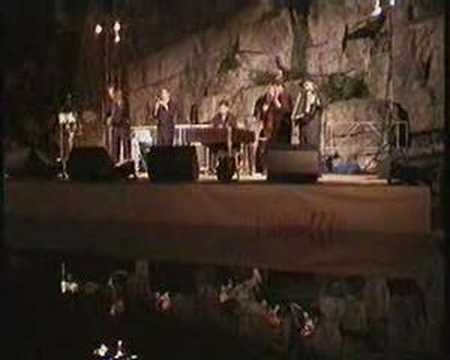 Le quatuor Julik: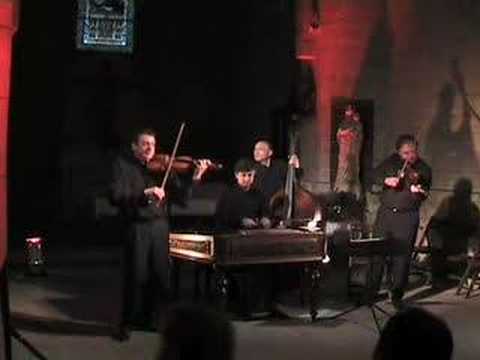 Deux vidéos de l'ensemble Tziganesh'ti:  d'abord le solo de cymbalum par Cyril Dupuy, puis le groupe: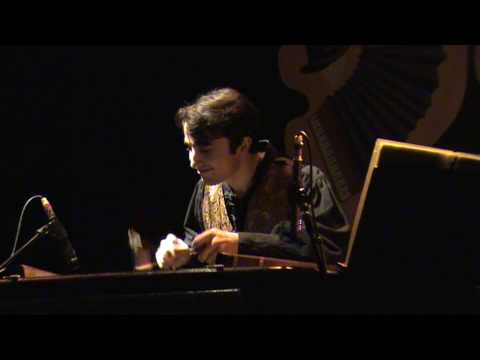 Festival La Dame des Aulnes, Cyril Dupuy au cymbalum:
Publié dans B-Musique | 2 Commentaires »